Welcome!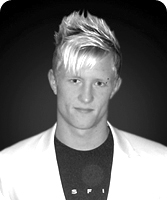 My name is Simon Rylander, and many of my friends call me Sunshine. I'm 25 years old and I live in Sweden in a city called Lund (far south). I have been into Barbershop for about 4 years, and before that, I've been the lead guitarist and lead singer in a rock band since I was ten years old. I've recently started singing Lead in a Swedish Barbershop quartet, and we're aiming for Internationals 2009. I'm also singing in Zero8, which is a newly started barbershop chorus that recently qualified for Internationals with 86% scores.
Since spring 2007, I have been making tag recordings where I record all parts myself, both audio and video (multitrack tags). Check out the tags in the Tags section, or check out my channel on YouTube. These recordings have led to people requesting whole songs done by me, therefore I decided to record and distribute a full-length album with 12 songs. It is now done, and all legal issues are handled (such as the mechanical fees that I pay in advance). The album is FREE OF CHARGE, and read all about how to get it in the My Album section.
General Information
Musical Merits
I have been singing and playing the guitar in different rock bands since I was ten, and during this time I have made 4 professional studio recordings. My father has been working at a radio station and a recording studio as a sound technician basically all my life, hence I have had the opportunity to play in a recording studio all I wanted. During these recordings, I was taught how to handle digital recording, mixing and mastering, which is the reason why my recordings have a professional sound.
For the past couple of years, I've been active in barbershop chorus and quartet singing and male choir singing. I have recently started singing in a quartet called Q-tones (former Quarterstones), who has been competing in Internationals before my time. We were recently in USA where we attended Harmony University, and now we're aiming for Internationals in 2009.
Recording Equipment
MIC: Shure KSM44
SOUNDCARD: Line6 TonePort UX8
RECORDING PROGRAM: Cakewalk SONAR 8
Get My New CD
Would you like to receive a free copy of my new CD? If possible, when ordering your CD, I ask that you make a donation to help me recover my costs of production. Normal price for this caliber of CD is $15 US, but feel free to donate whatever you can.
Just click the link below. Thank you!